About the Artist
---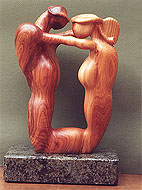 John Markevich was born and raised in Russia. After graduating from the University of California at San Francisco with a degree of Doctor of Dental Surgery, he settled in San Francisco and practised dentistry for 30 years. During his practice of dentistry his initial hobby was jewelry making (utilizing the lost-wax technique). Before retiring he started a new hobby in wood carving and fell in love with the unique and beautiful structure of English Yew Wood.
Primarily a self-taught artist, Markevich was greatly influenced in his creations by Barbara Hepworth, Henry Moore, Hans Arp, Constantin Brancusi, and Robert Russin. Eventually, after working with wood for almost 20 years, he developed his own style. Most of his pieces carry a definite signature of his own expressions.
His sculptures have organic forms with fluid lines, highly polished surfaces and are very sensual to touch and to look at. Some of them emphasize the Negative Space, others are figurative, but they are mostly abstract. Woodcarving is a labor of love.
---
English Yew Wood
John Markevich uses mainly English Yew Wood (Taxus Baccata) for his sculptures. The wood of a yew tree possesses qualities of first-rate excellence, being not only hard, compact, of a fine and close grain, and elastic, but susceptible of a very high polish and almost incorruptible.
Yew wood may be safely pronounced one of the most valuable among European trees. But at the present time, due to insufficient supply, it is mainly used for making boxes, bodies of lutes, tool handles, veneers, wood-carvings and sculptures.
---

For more information, please send email to john.markevich@yahoo.com
or call John Markevich at (415) 386-8759. Contents copyrighted 1999 - 2007.
---